Tennis Bag – Which One Suits Me?
A tennis bag is a great advantage if you want to take all your tennis equipment to the tennis court. Tennis rackets and tennis balls are often accompanied by other accessories. Here a water bottle, there a towel and what about shoes?
Without the right bag, you can quickly lose track. In addition, you want to transport your things as safely as possible. The freshly strung racket should not be broken.
That's why we give you all the information you need to find the best tennis bag quickly and easily. For the next game you'll have the right bag ready and are prepared for everything.
Tennis Bag Types
When looking for a new tennis bag, your skill level and training intensity are important factors. With this you can already make a small pre-selection.
Then you can see which utensils you need for playing and want to store in the bag. Basically you have the choice between 3 different types of bags: racket bags, tennis backpacks and duffel bags.
Racket Bags
The best known and most used tennis bag is the racket bag. It has the typical long shape to store tennis rackets optimally. The racket bag can be divided into several sections. It has so-called main and side compartments.
The main compartments serve as storage space for your tennis rackets. As a rule of thumb you can remember that a maximum of 3 rackets can fit into one main compartment.
In the side compartments you can then store the remaining accessories such as balls, shoes and drinks. Depending on the model, this bag can hold up to 15 rackets.
3 Pack Bag
This bag has only one main compartment, so it can hold a maximum of 3 rackets. In addition, there is a minor compartment in which you can store small items. For transportation the bag has a shoulder strap.
All in all the essential functions are covered. The bag is especially suitable for players who only play tennis occasionally.
6 Pack Bag
If you are a hobby player and need a little more space in your bag, this model is the right one for you. The bag is equipped with two main compartments, so you can carry up to 6 rackets.
If you only use one main compartment, you can also store your accessories in the other compartment. Just like the 3 racket model, this bag has one shoulder strap.
9 Pack Bag
Advanced players often choose a 9 pack bag. With three main compartments, you have the possibility to store up to 9 rackets. There is also enough space to store clothes and larger utensils.
There is usually a separate compartment for shoes. This model also has two straps that allow you to carry the bag like a backpack.
12 Pack Bag
This model is perfect for players who are on the tennis court almost every day. Therefore the bag is best suited for professional players. Three to four main compartments offer enough space for 12 tennis rackets.
The bag also has several side compartments and pockets for all accessories. Two backpack straps are also standard.
15 Pack Bag
Even more storage space is available with the 15 pack bag. This bag is very similar to the 12 pack bag, but a little wider. Therefore three more rackets fit into the bag.
Backpacks
A good alternative to a racket bag is a tennis backpack. This backpack is especially popular with beginners and recreational players. If you only want to take the essentials with you to play, this one is perfect for you.
In general you can carry up to two tennis rackets with it. The handles of the rackets protrude a little from the backpack, but some models have a handle cover for this purpose. This keeps your rackets dry even in the rain.
In addition to the rackets, the backpack also has some storage space for smaller items, such as a can of balls or a pair of shoes. Another big advantage of the tennis backpack is its light weight and flexibility. Especially if you cover longer distances on foot or by bike, the backpack is ideal.
Duffel Bags
Professional players who travel a lot transport their equipment in special travel bags. Depending on the model, these can be carrier bags or bags with wheels and telescopic handle.
These have a large number of compartments in which you can store accessories as well as other travel utensils. They generally consist of a very resistant material. Some of them have a hard outer shell to protect the equipment as best as possible.
Racket Covers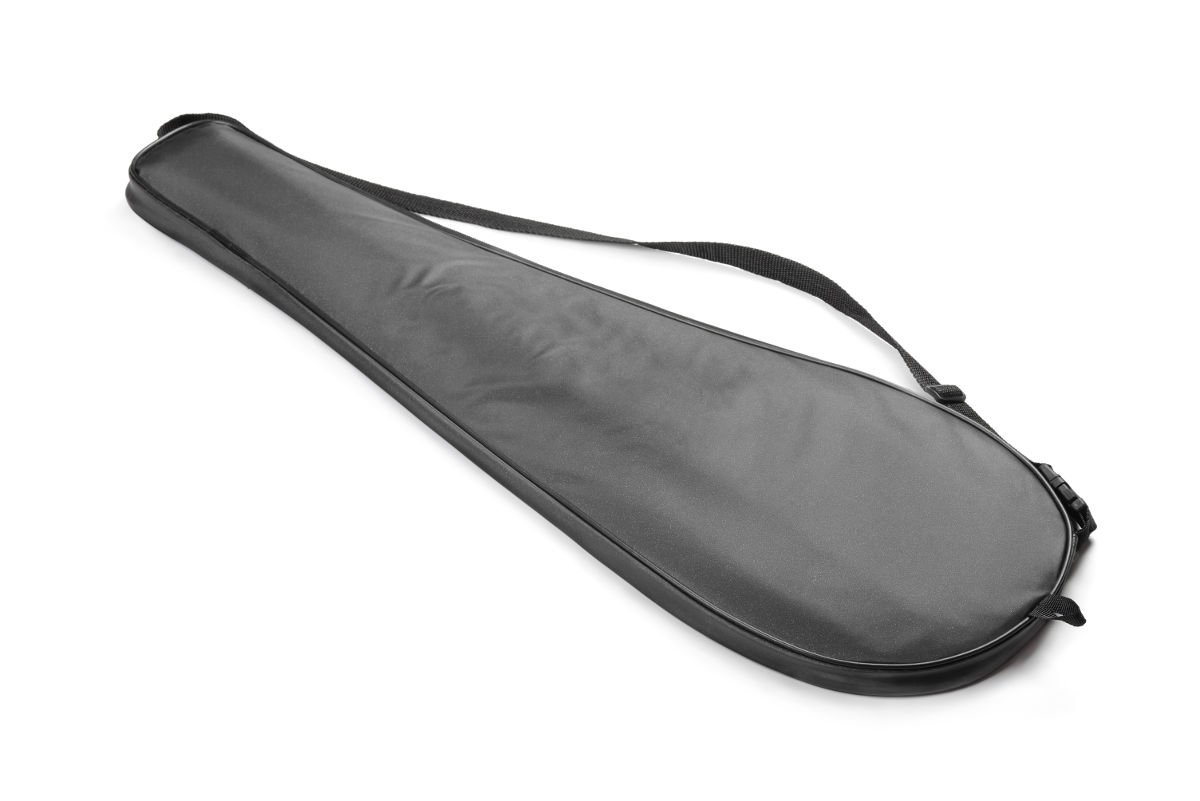 If you are looking for an easy way to protect your tennis racket, we can recommend a racket sleeve. This is a thin padded sleeve in which you place the racket.
It protects the racket from external influences, such as sunlight, but also from scratches and other damage. A racket cover is especially useful if you have several rackets in one compartment of your bag and want to avoid that they rub against each other.
Tennis Bags Comparison
Above you have learned about the different types and models of tennis bags. To help you compare all the bags, we have made a list of the 6 most important criteria, showing the pros and cons of each bag type. So you can quickly compare which bag suits you best.
Material
It is important that your tennis bag is made of a durable and water-repellent material. For this reason, the majority of all bags are made of polyester.
Another advantage of polyester is that the material is easily washable. This makes it relatively easy for you to clean the bag.
Besides polyester, there are also leather tennis bags in the luxury segment. Leather bags are of a very high quality material, but they are rather unsuitable for the tennis court because they are very expensive and not so easy to clean.
Weight
Weight plays a major role, especially during transport. First and foremost, of course, your equipment is crucial for the weight of the bag. However, the weight of the bag itself also makes up a significant part of the total weight.
Basically, backpacks are the option with the lowest weight and. Since there are no great variations in tennis backpacks, they all have a similar weight range.
The weight of racket bags depends on the model. The weight increases gradually. Racket bags for 3 rackets are only slightly heavier than tennis backpacks. Accordingly, the heaviest model is the 15 pack bag.
Stability
When choosing a new tennis bag, you should also pay attention to the padding. There are bags with both a soft and a hard outer shell.
A tennis bag with a hard outer shell is more stable and offers your rackets even better protection. We recommend this bag especially if you want to transport high-quality or sensitive tennis rackets.
Shoulder Straps
The carrying system is crucial for the optimal carrying comfort of the bag. Here it depends above all on the number of shoulder straps.
Tennis bags with a capacity of 3 or 6 rackets usually have one strap. This allows you to carry the bag over your shoulder. From the 9 model upwards, tennis bags are equipped with two shoulder straps. With these two straps you can carry the bag on your back.
No matter which system you choose, make sure that the bag has padded and adjustable shoulder straps.
Thermal Protection
If you play tennis on very hot days and want to protect your equipment from heat, you need a bag with thermal protection. A bag of this type has at least one insulated main compartment to keep the contents cool.
This compartment is mainly for your tennis rackets. High temperatures can cause the stringing of the rackets to warp and eventually lose its tension. You can counteract this with a thermo-insulated compartment.
In addition, the compartment is also suitable for cooling snacks and drinks.
Shoe Compartment
Hardly any player wants to store his shoes together with the rest of his equipment after an intensive training session. Therefore some tennis bags have a separate shoe compartment. This compartment separates your shoes from the rest of your equipment so that the main compartment does not get dirty.
The shoe compartment is generally made of a very breathable fabric, which ensures that your shoes are well ventilated. Besides shoes, the compartment is also perfect for wet clothes.