Tennis Clothing – The Perfect Outfit
On the tennis court it is important that you feel comfortable in your clothes. Perfect wearing comfort is therefore a decisive factor. The tennis clothing must fit well and offer you enough freedom of movement.
In addition to functionality, the design should also be right. New collections in trendy colours are launched on the market at regular intervals. The variety here is huge and the possibilities almost unlimited.
In this guide we would like to make it easier for you to choose the right clothes. You will find out which clothes you really need in the end and which accessories should not be missing.
We are sure that with this knowledge you will be able to put together the right outfit.
1. Tops
For different preferences and weather situations you can choose from a range of different tops. First and foremost you have to pay attention to how air-permeable the individual fabrics are.
Among other things, the decision can be based on how much sweat your body produces during training. You should also ask yourself whether you prefer a top with a loose or a tighter cut.
Another point is the flexibility of the material. For example, a garment made of an elastic fabric gives you more room to move.
T-Shirts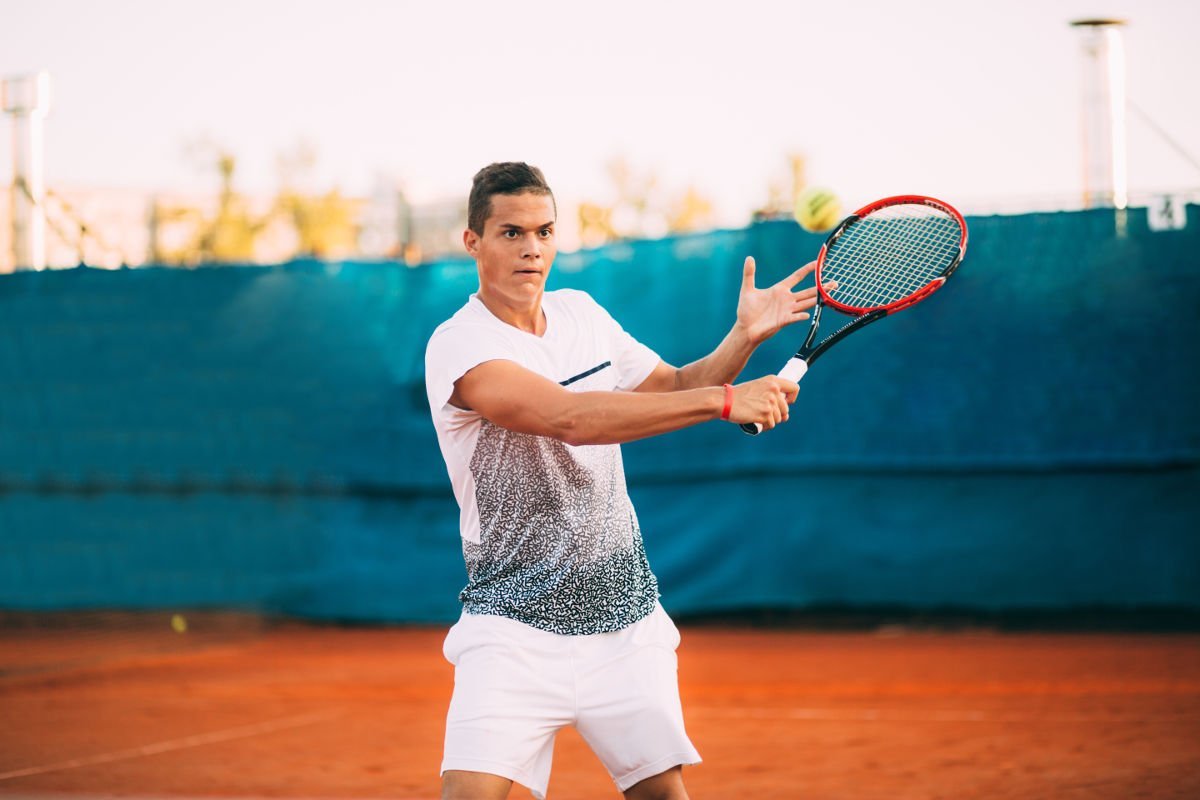 T-shirts are the first choice for most tennis players. They are very popular because of the large number of cuts and colour combinations. In addition, they are extremely easy to move because of their short sleeves.
The materials vary from cotton to polyester in this case. Some manufacturers have developed special technologies to improve the cooling of the skin. If you are looking for a particularly breathable T-shirt, we recommend that you look at the "mesh" material.
Tank Tops
Tank tops are also known as sleeveless T-shirts. In general, they have a wide cut and fit loosely to the body. This ensures very good ventilation and cooling of the skin.
For this reason tank tops are perfect for playing on very hot days. They are especially suitable for tennis players who sweat more.
In general, you have maximum freedom of movement with a tank top. In addition, the skin in the area of the axles is protected, because there are no sleeves and therefore no fabric can rub against the skin.
Polos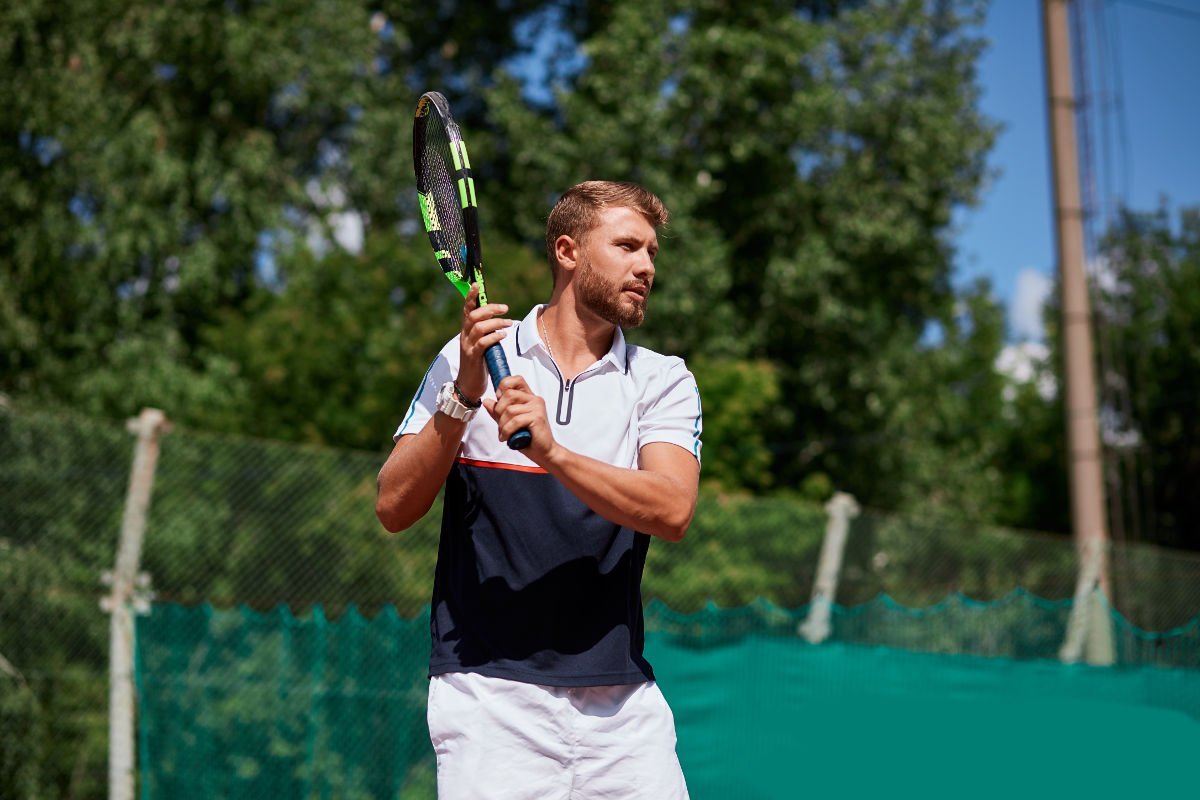 With the polo shirt you have the elegant look. It is a real classic and a piece of tennis history.
In the past it was common for tennis players to wear only shirts with long sleeves on the court. To increase the players' freedom of movement, the polo shirt we know today was finally developed.
Most polo shirts are made of pique, an air-permeable cotton fabric. Compared to the T-shirt, the fabric of the polo is much thicker and more robust. High-quality polo shirts therefore have a very high durability.
However, you will have to compromise on wearing comfort because of the thick material. The fabric is a bit rougher and not as flexible as the T-shirt.
Long Sleeves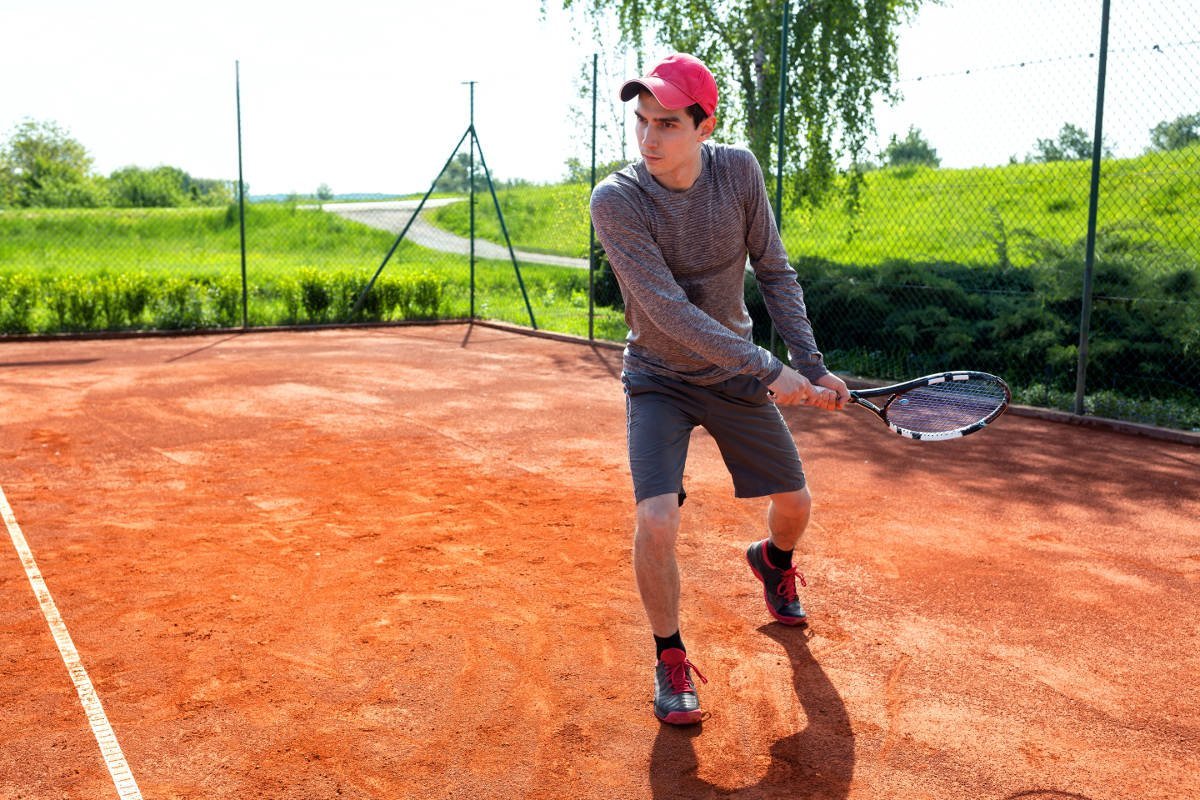 If you play tennis in colder temperatures, long sleeves are the right choice for you. They help you to keep your body warm so that you don't have to freeze.
Long sleeves are often made of an elastic material that adapts perfectly to your body. On the one hand, this compression garment increases the blood circulation in your muscles, which considerably reduces the risk of muscle injuries.
On the other hand it ensures that sweat is effectively removed. This prevents moisture on the skin, which reduces the risk of colds.
Another function that some long-sleeved shirts have is protection against UV radiation. Since almost your entire upper body is covered by the fabric, the skin is shielded from the sun's rays. So you don't have to worry about getting sunburned during the game.
Hoodies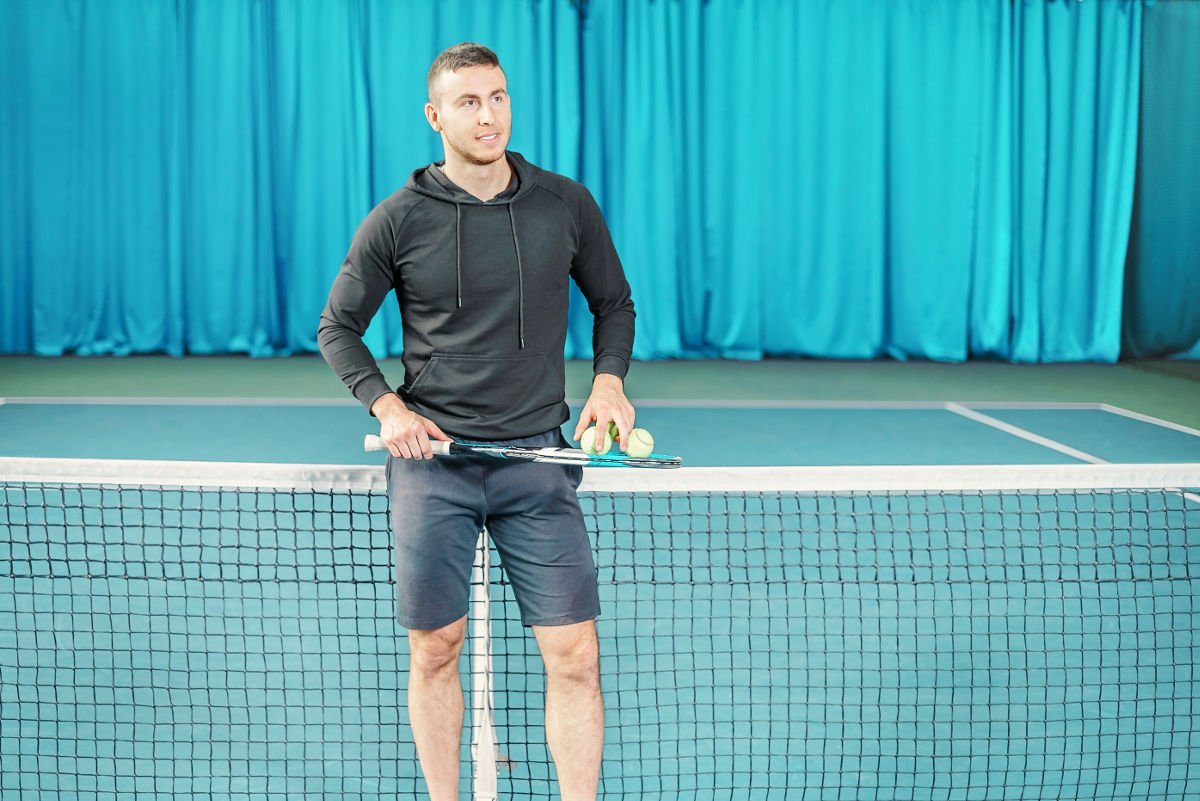 On cold days hoodies are a good alternative to long sleeves. These hoodies are a little thicker and keep you a little warmer. Basically you have the choice between two different versions: Hoodies with fanny pack or sweaters with zipper.
The clear advantage of the version with a fanny pack is that you can store balls in the bag. This is especially helpful during training if you always want to have a ball at hand.
In contrast, the pullover with zip makes it easy to put on and take off. You can also play with the zipper open.
All in all, the hoodie is ideal for warming up before training or a match. Due to its soft inner material the hoodie is quite comfortable. Therefore, it is also worn by many players.
On the other hand, the hoodie gives you a little bit of limited mobility, which makes it rather unsuitable for the real game.
Jackets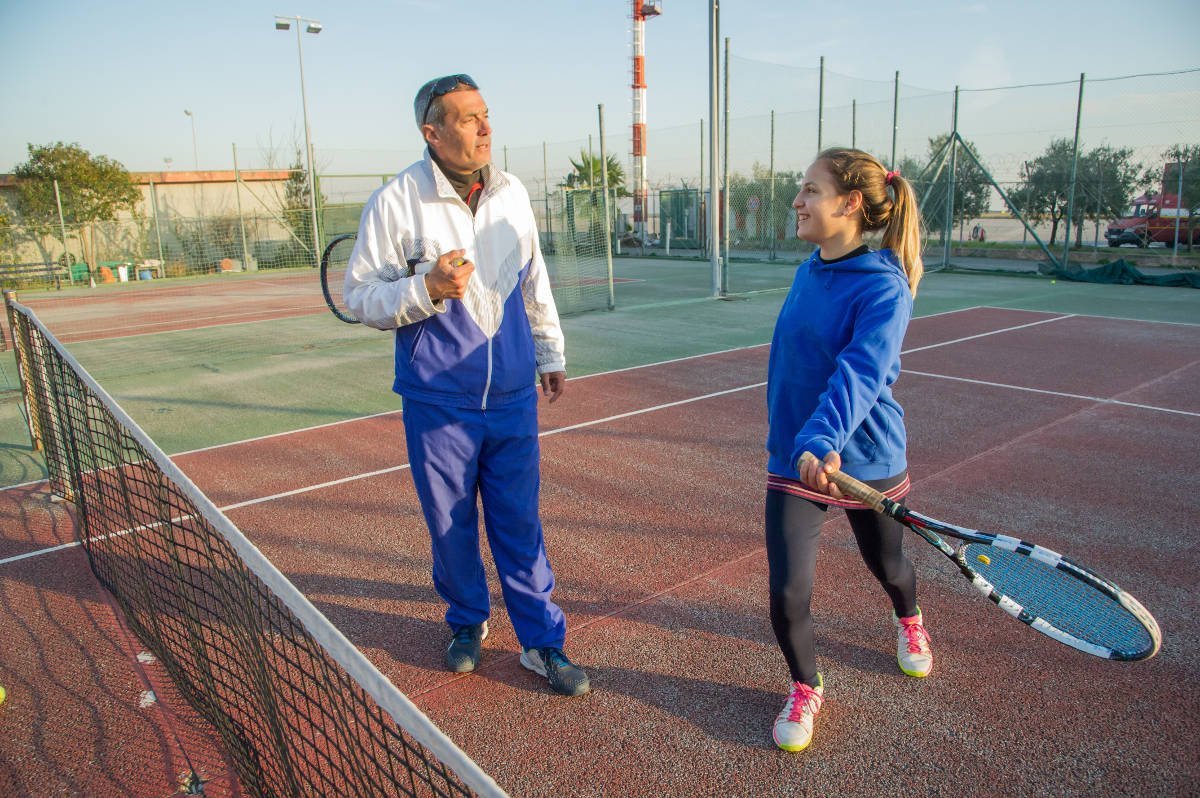 If you are looking for a top for all weather conditions, you should definitely take a look at tracksuit jackets.
An appropriate jacket allows you to stand on the tennis court even on rainy days. It is important that it is made of a water-repellent material.
In addition to protecting you from wetness, the jacket also protects you from wind and cold. It regulates the heat and moisture in such a way that a pleasant body climate prevails under it.
Furthermore, many models are made of light materials, which further improves the wearing comfort. The additional advantage of a training jacket are the side pockets, in which you have enough space to store small items.
Compared to hoodies, jackets generally offer you a little more freedom of movement. Our recommendation is to use them for training in wind or occasional rain.
Dresses
There are special tennis dresses for women, where the top and the skirt are joined to form one piece. Here there are some differences to consider.
First of all, there is the cut of the dress. A tight and compact dress should be made of a flexible material that adapts to your body shape.
It should not be too tight so that you have enough room for the swing movements. On the other hand, the dress should also not be too loose, otherwise it could flutter in the wind and disturb you while playing.
In addition, the material must be breathable and be able to dissipate sweat well. Also make sure you think about the weight of the dress. It is best to choose a model that does not weigh so heavily on your shoulders.
Last but not least you should ask yourself what kind of dress with what design you prefer. Basically you can choose between simple dresses or models with frills. For a stylish look there is also the polo dress with sleeves.
2. Bottoms
In addition to the top you need the matching tennis pants as a supplement. Since the footwork plays a big role in tennis, you should make sure that the pants give you good mobility. High-quality pants are made of a light and durable fabric that is also sweat-absorbent.
In general, tennis pants are available in various designs and lengths. For certain seasons or weather conditions there is a wide range of models.
We strongly advise you to pay attention to their features when looking for new pants. Tennis pants should have at least one pocket in which you can store a tennis ball.
It is also an advantage if the pants have a flexible waistband. This waistband adjusts individually to your hips and thus ensures a comfortable fit.
Shorts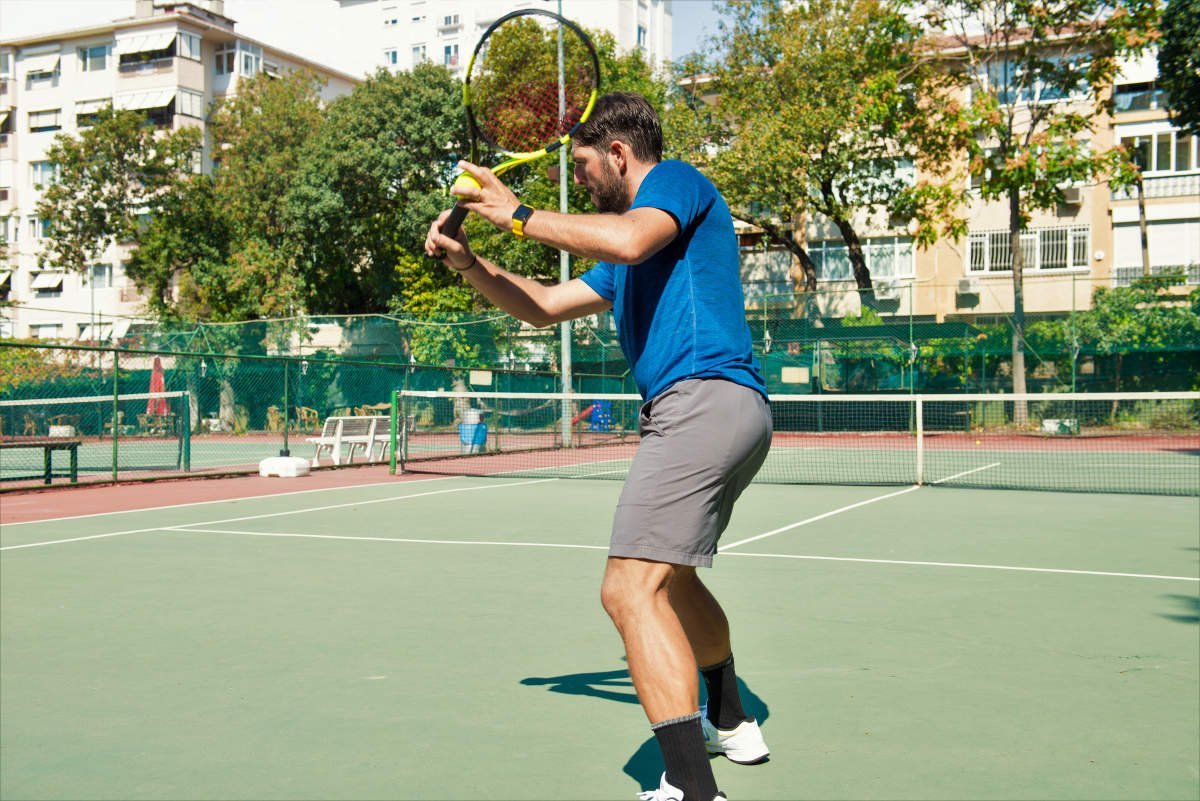 In the tennis world, shorts are very common among players. On the one hand, they offer you excellent freedom of movement because they are very compact. In addition, the loose cut makes the shorts easy to move. This means that even extreme movements, such as lunges, are no problem for you.
On the other hand, tennis shorts feel very comfortable with their light material. In some cases, perforated fabrics are used during production to increase the air permeability of these shorts.
The tennis shorts are available in the short version as well as in the longer Bermuda version.
Skirts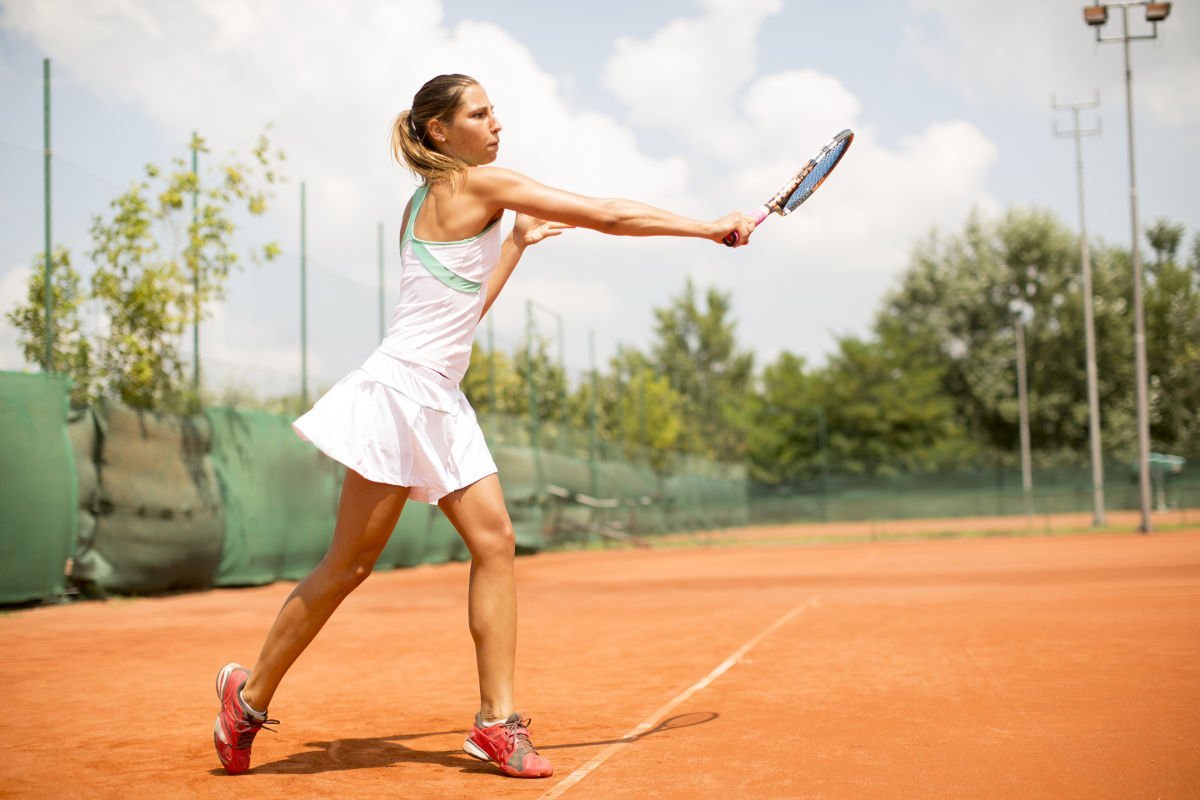 Instead of a tennis dress, women also have the option of wearing a skirt in combination with a top. This gives you even more freedom to create your own outfit. Due to their good ventilation, tennis skirts are especially suitable for playing on warm days.
Basically, a tennis skirt is made up of two components. The inner shorts form the basis on which a fabric top is sewn. These inner shorts act like integrated briefs, which give the skirt the necessary support on the body. It therefore fits a little tighter to the skin.
Nevertheless, the tennis skirt is quite easy to move due to its ergonomic shape and the flexible material. The outer fabric top gives the skirt its characteristic look. Here you can choose from different fabrics and designs.
A simple skirt is very modern nowadays and emphasizes your sporty figure. Tennis skirts with pleats or frills create a more elegant appearance.
Tights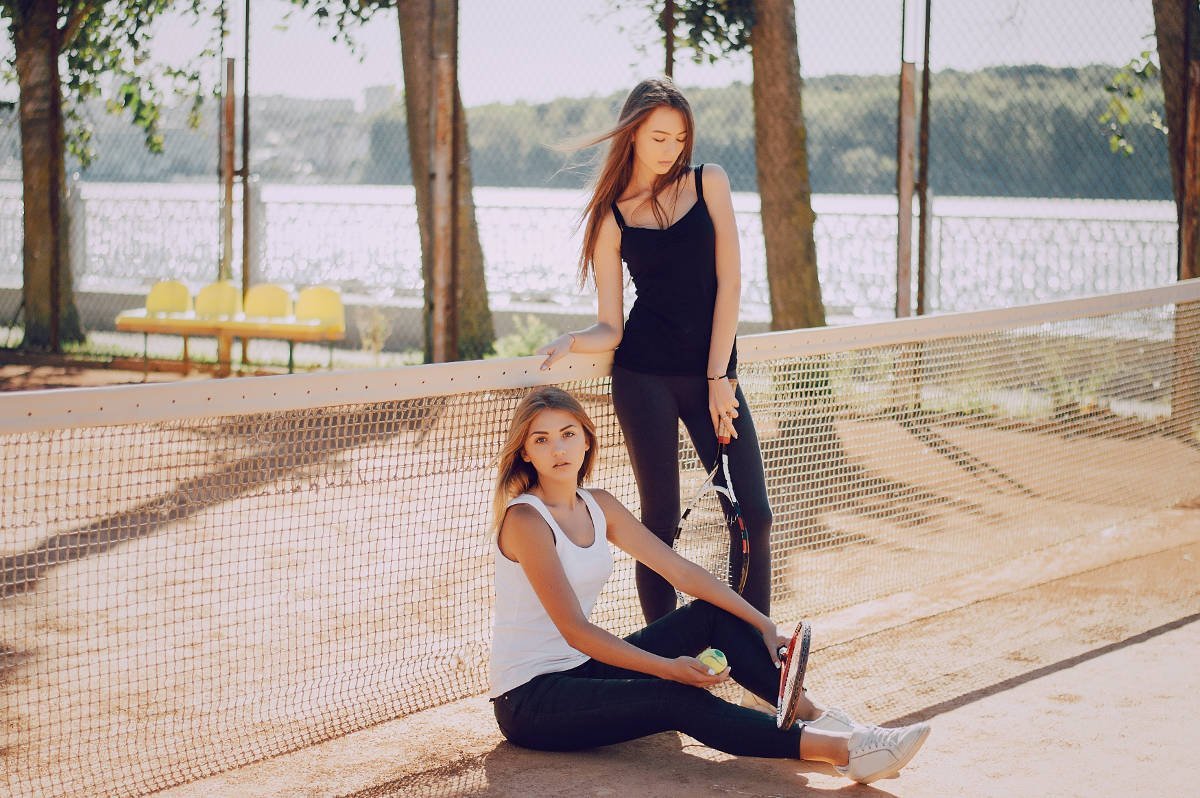 Tights or leggings are ideal for training in the cooler seasons. Just like long-sleeved shirts, tights lie flush with your body so that the cold cannot penetrate. At the same time, the functional material wicks away sweat, keeping your skin dry during the game.
The big advantage of tights is that they incorporate compression technology. This provides for an improved blood circulation of your body. This protects you from muscle fatigue and prevents potential injuries.
However, tights or leggings have the downside that they often have no pockets. In the real game this is problematic, because you usually need two tennis balls for your serve.
Training Pants
If you want to have it even warmer on your legs, then training pants might be interesting for you. No matter if you train indoors or outdoors, the pants will keep your body constantly warm.
Due to the loose cut you have enough space for all movements during training. In addition, the fluffy inner material provides you with a pleasant wearing comfort.
In general, long training pants are the perfect complement to a tennis jacket. If you combine both pieces, you have the ideal tracksuit. Some manufacturers therefore offer suits in a complete package.
3. Accessories
To complete your tennis outfit, there are some accessories that make the game even easier. Functionality is clearly paramount here. However, the design should also match the rest of the outfit.
Accessories include headgear, headbands, sweatbands and socks. The latter are of course necessary to be able to play tennis at all.
Now you are probably asking yourself "But what about the right tennis shoes?
On our website you will also find all the important information on this topic. Since the area around tennis shoes is a very broad topic, we have created a special page for it.
Caps
On summer days, the sky is almost always clear and the sun is shining. In principle, it is most fun to play tennis in good weather. But if the sun is too strong, it becomes a real obstacle. The result: you are blinded, which means that you can no longer concentrate on the rally. And serves are then hardly possible.
In this case, be better prepared and have a cap with you. Caps are a very helpful accessory. They help you not to be affected by the sun so that you can focus on the game again.
Tennis caps are available in different designs for both men and women. Usually men wear the normal caps. In contrast, women tend to wear open caps, also called visors.
Because of their opening, visors are suitable for long hair. Make sure that the caps have an adjustable closure at the back so that you can adjust their size.
Headbands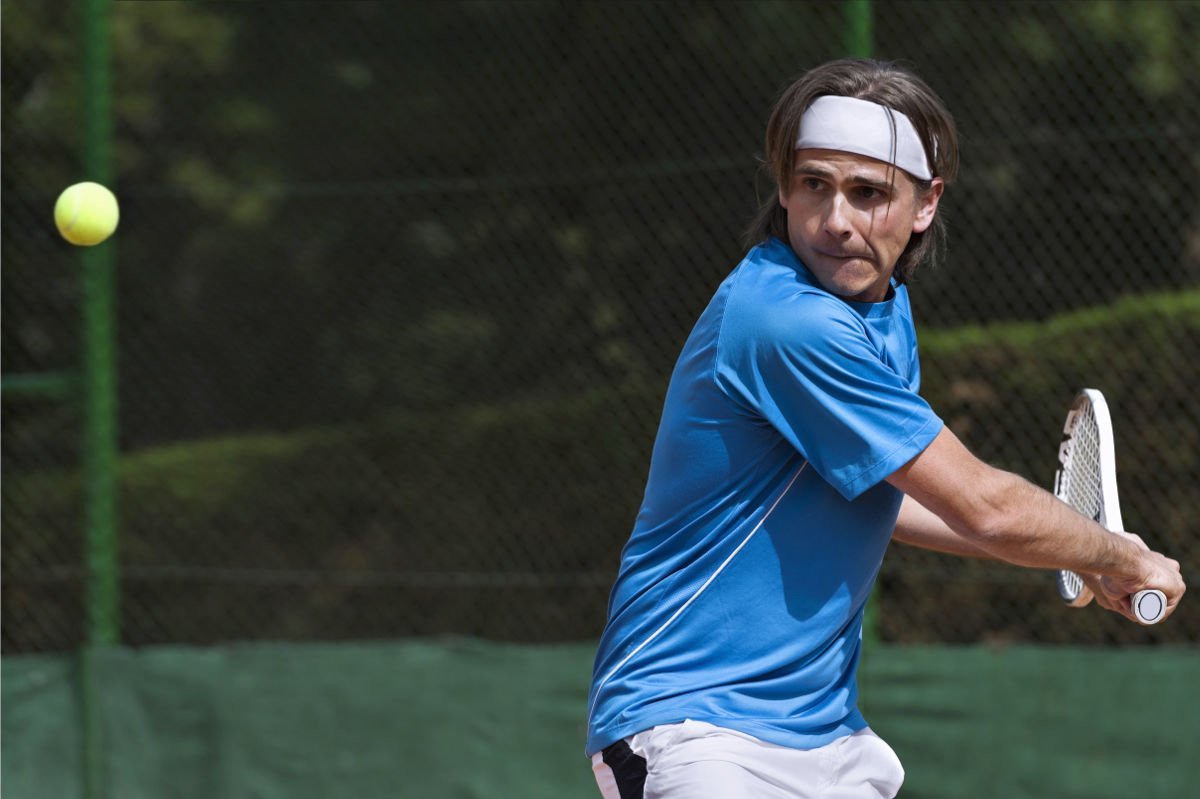 Headbands are also very popular with tennis players. They prevent the sweat from the hair from flowing down the forehead and then getting into the eyes. So your head stays dry even during longer matches. Basically, headbands are available in two designs.
On the one hand there is the version made of thin polyester. With them the size can be adjusted relatively easily, because you tie the knot yourself. On the other hand there are headbands made of thick cotton. They are not so easy to adjust, but can absorb a lot of sweat.
Wristbands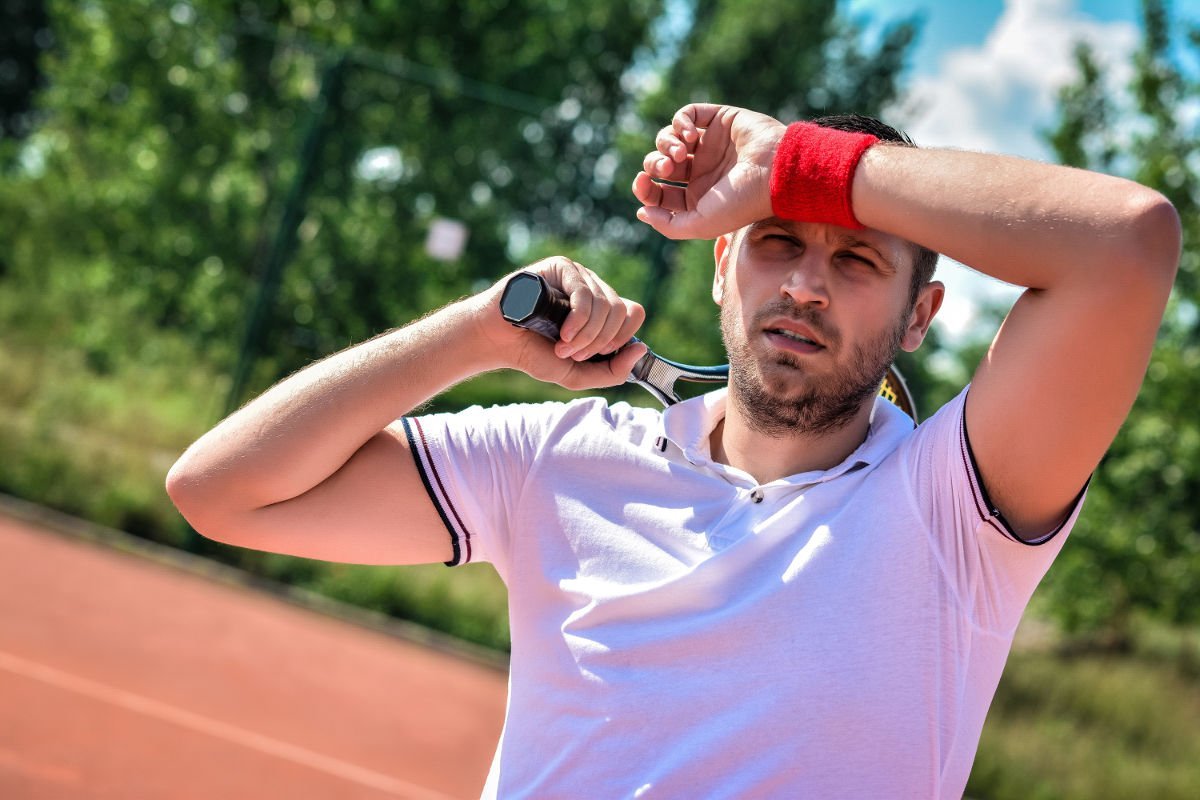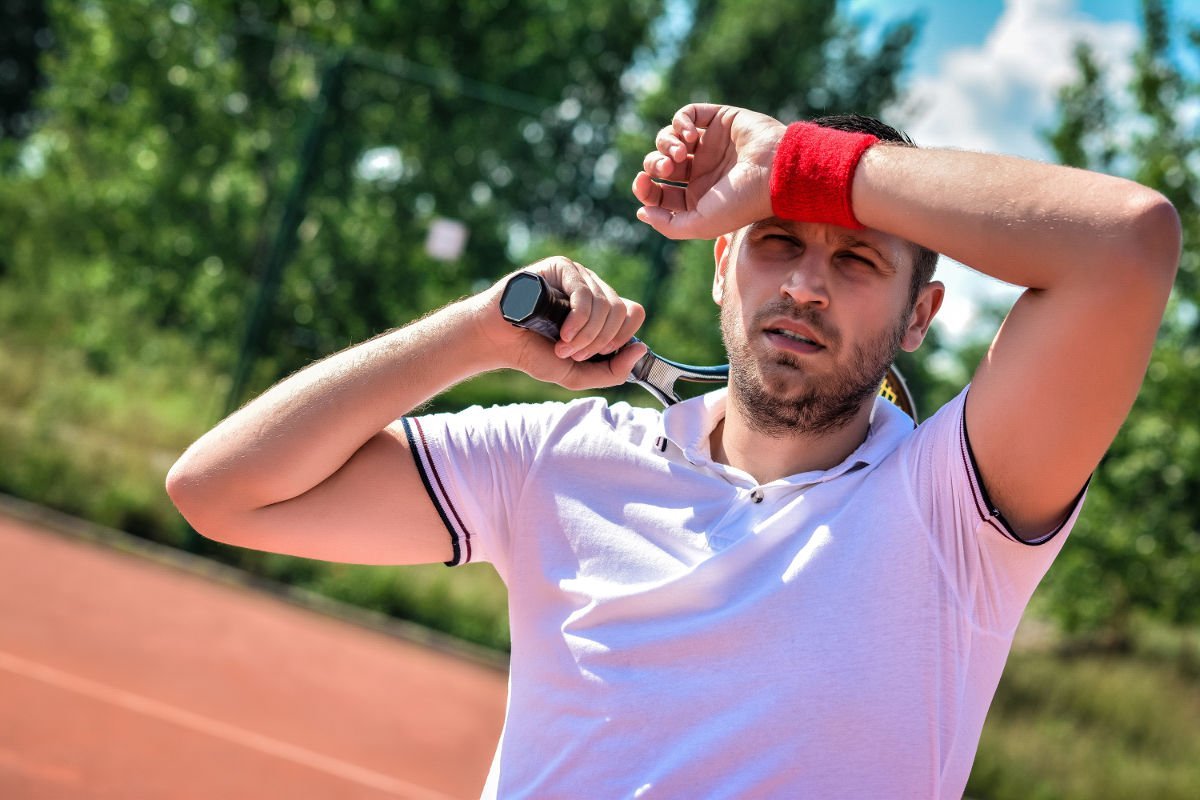 Another accessory that many tennis players wear is a wristband. Like headbands, wristband are made of terry cloth, a fabric made of cotton. This material makes them extremely absorbent.
Wristbands give you the opportunity to wipe off the sweat from your skin quickly and easily. In this way you can not only dry your forehead. You also prevent too much sweat from collecting on your hands. The skin is no longer so wet, so the racket fits better in your hand.
Socks
When you play tennis, your feet in particular are exposed to heavy loads. Tennis socks are like an extra cushion for your feet, protecting them from shocks and impact energy. For a good foothold it is important that the sock fits exactly to the foot.
The material should feel pleasantly soft and not rub against your skin. Because this friction can quickly cause blisters. In addition, the material should be breathable to ensure that your feet are evenly ventilated.
All in all you can choose between short and long tennis socks.
The short models have the advantage that they ventilate the feet more. Standard tennis socks are a little longer, but the ankle is better protected. High quality socks also have protectors on the heel, ankle and toes to further increase the protection of these areas.
Tip: During longer matches or intensive training sessions, it is often the case that at some point your clothes get soaked. Therefore you should also think about spare clothing. It's always good to have a pair of socks or a T-shirt in your pocket that you can change quickly.